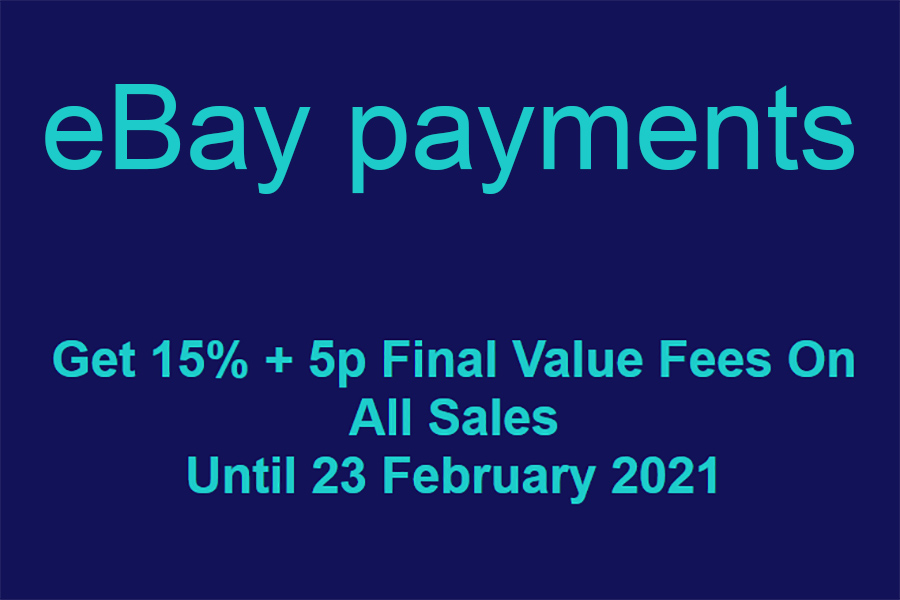 eBay payments Low Cost Items Promotion ('Micropayments')
eBay payments are running a Low Cost Items promotion in the UK, somewhat reminiscent of PayPal Micropayments; Kicking in this August and running right through the Christmas period, it offers 15% fees but crucially a 5p fixed fee for each transaction.
"At the moment, there's no separate pricing for low priced items. Our pricing structure is optimised to work for many categories & price points including low price inventory. In specific cases there may be an opportunity to do even better. We're looking at a number of promotional tests in these instances. We still require sellers to register for payments to take part in these opportunities."
– eBay Vice President Murray Lambell (6th July 2020)
The Low Cost Items promotion runs for transactions taking place via managed payments between the 24th of August 2020 and the 23rd of February 2021. To take part eBay Business sellers must have registered for eBay managed payments on the Site by the 10th of August 2020 and been invited to participate. Sellers invited to participate in the Promotion and who receive the promotional email, will be selected on a random basis from the group of sellers meeting the criteria. For sellers who have not registered for managed payments, opted-in to the promotion, or do not get activated for managed payments by the start of the Promotion Period, the Standard FVF applies.
This represents a critical acknowledgement by eBay that a ton of low cost items aren't financially viable to sell on eBay when you're paying a fixed fee of 30p for each transaction. Products as varied as post cards, USB sticks, balloons, stamps, craft supplies, birthday cards, ribbons, screws and plant seeds selling for just a couple of quid don't have the margin for such a high overhead.
A word of warning for sellers who are invited and choose to opt in, the promotional 15% FVF plus 5p fixed charge will apply to ALL transactions during the promotional period. We know that many sellers will in the past have had two PayPal accounts (one normal and another micropayments) and simply entered the appropriate email address according to the item value when listing. With the eBay payments Low Cost Items promotion you won't be able to segment sales in this manner and the only way around it will be to operate two eBay accounts. If your account is invited to the Low Cost Items promotion accept and use this account for low value items and use a second eBay Business account for products which sell for higher values paying the regular fee schedule.
As a temporary promotion offered to sellers selected at random and a fee scheduled applied to all products, this offering won't appeal or even be available to everyone. However it's a step in the right direction with eBay acknowledging that the 30p fixed transaction charge is a killer for many eBay businesses.