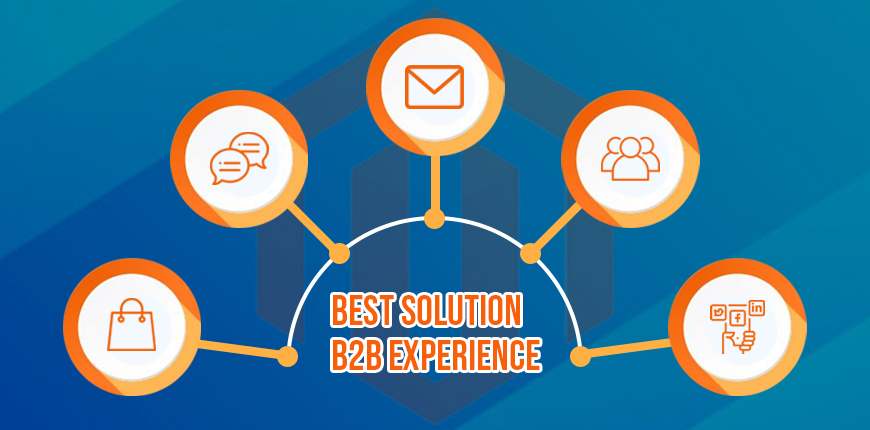 Best 5+ Astounding Solutions That Improve B2B Experience Of Magento 2
Customer experience is always challenging. It is a priority of B2C companies and much of this has been in B2C markets, but it has not been a focus for B2B companies. Until recently, Magento Business 2 business started to focus on B2B experience Magento.
We have seen an appreciable increase in the attention paid to the traffic of customer experience, but B2B customer experience performance still lags other markets and often struggles against other corporate priorities.
In this article, we will give Magento B2B customer experience solutions that drive your B2B experience Magento to success.
1. Website Speed and Faster response
Higher speed higher satisfaction. Magento business 2 business needs to pay attention to this core thing. Your website should speed up and update regularly to bring customers far more satisfaction in shopping because no one wants to waste time.
Customer support 24/7 can optimize the consumer's shopping experience due to its convenience. An analytic records a number of about 38% faster response time and image loading time for the updated Magento 2.3 version in 2018.
The loading speed of your eCommerce website is a crucial factor. So make sure your website runs fast to purchase through it. Because fast loading websites and faster response convert more visitors into customers and boost your search engine rankings.
2. Personalizing Shopping Experiences:
Intuitive navigation and search:
Make it easy for customers to navigate your site. It is easier to find the products they want as much as possible through web navigation. Besides, it makes them more comfortable if they can find their products right in the menu bar.
Site search that enables filtering, sorting by business rules by business rules, synonyms and autosuggest. This is the quickest and most effective way to drive customers, sales, cross-selling or upselling in the fewest clicks possible.
Account personalization enables you to customize your B2B experience Magento and deliver targeted messaging directly to customers.
When customers want to understand their business or returns to a quick look at more products, they are accessible with a personalized outlook of the products.
This system helps customers to get a personalized experience and simplifies the ordering process with Magento business 2 business.
Customizable pricing:
Custom price for Magento B2B allows your company to edit the price which makes it possible to set different product pricing for a specific company or website. Magento has tailored pricing, dynamic pricing to negotiated contract pricing terms.
The way you use this Magento feature, customers can receive the right products and pricing information with personalized price list.
3. Offer Competitive Shipping And Payments Options
Quick repeat ordering: If your website can highlight their previous orders and automating re-orders, B2B experience Magento for customers makes purchases easier.
Quick order/bulk entry: a more user-friendly way that stimulates customers to shop more on your store. More than that, this practical interface makes bulk ordering simple and straightforward to save customers' time and enjoyable navigation.
Viable Shipping options: Applied button selection and transparency to the shipping rates. Not only Magento business to business is easy to access multiple carriers but it also improves business efficiency. Due to the competitive pricing options, a lot of online retailers working on high expectations and no-cost shipping in the shopping cart to get a range of shipping options.
4. Best Customer Service by Magento
Magento business to business expects the best B2B experience Magento online. Despite the fact that Magento B2B companies are familiar with operating in relationship-based models offline, Magento B2B also expects a similar level of customer service online.
There are the last three tips to boost the B2B experience Magento:
Magento business to business online websites should streamline and expedite the approval process of an organization. Mirroring the approval process online by automating a few aspects of workflows.
It is easier for Magento business to business to manage account users and budget constraints. To set up a user's role and helps to improve customer experiences when they access the storefront to view account information, searching for products, placing orders, etc. and assign a different degree of access rights.
Maintaining the relationship management and counselors to their customers by automating some of the purchase procedure or the account managers as opposed to simply order takers.
It can help to enhance the customer experiences, make more marketing efforts and more personalized service. Effective management improves customer service and keeps both sales and customer care teams informed of what customers are doing online
Customer Personalization Options-
Segmenting your customers with Magento business to business can get better personalized B2B experience Magento. Your Magento B2B accounts can display targeted banners, tailored cross-sells, upsells and unique promotions.
Magento Enterprise has plenty of features so that customers are easily accessible with a personalized outlook of the products in which they are interested. The access to products relies on customer's behavior over previous risks.
Recommendations and product listing-
The customer gets a good B2B experience when they shop with recommendations and product listings on their website. This is one of the best channels to cross-sell and upsell in eCommerce which can generate real-time recommendations like Amazon, based on each visitor's unique actions.
It tailored your homepage and product pages and automatically display similar products on every product detail page with no manual intervention. This feature matches each user's history on your site and saves their preferences and shopping carts too.
It is better to have this feature on your site to generate product recommendations based on your customers' tracked shopping habits.
Social media plays an important role to drive the traffic to the website, especially Magento B2B. Social media is used as a marketing tool that brings together sales and marketing departments to develop social-selling tactics and build relationships with buyers.
Today, it is estimated that more than 5 billion people have mobile devices, and half of these connections are mobile phones/smartphones. So it is crucial for Magento B2B business to have mobile apps.
For example, if you want to build the mobile application for your Magento or Magento Marketplace Store, then the recommendation is you go for the Mobile App application builder. lt is the most exclusive and unique open code platform in the e-commerce industry to build native iOS and Android applications for Magento and Magento Marketplace Store.
Customers using these extensions will also help to generate revenue and increase sales. It contributes to successful B2B experience in Magento due to the high number using social media as a part of their life.
Product review page has pictures from customer's accounts to not only boost B2B experience Magento but also support their website performance and SERP rankings.
Magento business needs a Product review for search engines which gives sites with product reviews a higher ranking than those without. When customers search for a product, the product review page is essentially the landing page of your store.
As you do not know that product review can be a part of your advertising that helps people find your store, keep them engaged, and often leads to sales.
Optimizing images of products by visual effects betters highlighting the products, (Zoom in and out) emphasizes credibility to get a better look at products, and brief information for customers to understand the functions of products.
A fast check-in cart with brief information can understand customers from inside.
5. High Security to Consumers
Magento Security is a good solution for B2B experience Magento customers to keep their accounts safe from unwarranted access that can harm your Magento.
Magento business runs along with the long list data of worldwide customers, so it needs to be secured. The best solution, in this case, is that your websites have to work with the Certified Magento developers who can develop Magento security settings.
It is true to give you the ability to control the lifetime of customers on your sites and whether provides highly secured payment processing. Besides, these security settings allow you to add a secret key to URLs and determine the case sensitivity of Payment Card Industry login credentials.
Enable Faster Checkout Options
Customers love the simplicity of one-page checkout in the Magento installation to fasten their purchases. With Magento merchants, one-page checkout is convenient and saves time. Customers never leave your site. Because online customers can remove unnecessary checkout fields through several pages or dealing with a long questionnaire. Some Magento e-stores are much more creative when using the checkout page to render excellent customer service.
Customers in Magento commerce have different options such as Amazon Pay, Paypal, Simple Pay, Google checkout. Now Amazon Pay is a leading solution with more than 300 million active Amazon customer account holders.
Using Amazon Pay allows these shoppers to leverage the payment and address information already stored in their Amazon accounts to skip tedious tasks in checkout.
You also get benefits from fraud protection and payment guarantee policy, like subscription, multi-currency and cross-board processing.
6. Build Loyalty Programs
Loyalty programs gained a lot of potential business opportunities. Everyone loves loyalty programs or the same reward system.
Though loyalty programs with glowing reviews, promising referrals and spreading your brand's message far and wide, Magento B2B companies must have it.
It is nurturing loyal customers and developing long-term relationships between customers and your Magento business to business. Some popular loyalty programs offer special rebates for returning and VIP customers. Another option is a referral program or newly referred customers for inviting more customers which can also engage more people and also treat your loyal users with a profitable situation.
You can add more value to their B2B experience Magento while also gaining feedback on the loyal programs to analyze the buying habits of our most profitable accounts.
Above discussed some best solutions for improving Magento B2B experiences that lead to success. These are essential solutions for leading in an environment where customers wield growing power, buyers will then be able to more easily find the product they need, and loyalty will increase more.