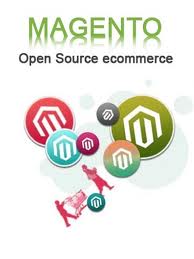 5 Powerful reasons to use Magento CMS
5 Powerful reasons to use Magento for your eCommerce business:
Magento is considered as one of the leading Open Source eCommerce CMS although there are many ecommerce solutions available in the market but many companies are using Magento CMS to manage their Online store.
Magento is used for shopping cart and eCommerce store management. "We as Magento eCommerce providers recommend this software to all eCommerce clients because of its flexibility and features."
In this post we will cover the 5 powerful features of Magento for your eCommerce business.
Search Engine Friendly:
Search Engine Optimizations – SEO is one of the most important task which is undertaken once the website is live therefore Magento CMS offers you with SE friendly URL's feature which is quite easy to manage. Magento offers you with in-built tools that help you to increase your rankings in almost every search engines.
Some of the SEO functionality provided by Magento is SEO friendly URL's, Easy control over Meta tags for each product or category, XML Sitemap generation and so on
Extensions availability:
Magento eCommerce solution is fully customizable as per your requirements and this is the feature every business and PHP developer is in love with. You can customize every panel, part, design of your store as you need. There are many extensions available at a nominal pricing which helps you to create a store visitor friendly.
Reordering Facility
Another top feature of Magento is that it allows you to retain your old clients with reordering facility. It means ]when an existing visitor's visits your store, Magetno helps customer by providing their last orders information on their account page which can be quickly re order in few clicks.
Guest Checkout Option
Guest Checkout Option is another good feature of Magento. This seems a tiny feature but helps your guest visitor to be in your store for a long time. Normally in Online purchase every store before making a final purchase ask for login to the account which many a times increase the bounce rate and low conversion as user don't want to register specifically for purchasing the product. Therefore to avoid this situation a visitor may check out from the store as a guest. This can reduce the time of your customer.
Multi-Site or Multi-Store Functionality
This is one of the most powerful features of Magento Multi store functionality – This feature helps you in running more than 1 store from one single admin panel. You can easily manage all your website orders from one single admin panel. You can easily prepare the reports for all your stores.